Ba Be national park travel advance - Tour - Bus transfer - Homestay - Motobike rental - Food - Drink
HOTLINE BOOKING TICKET : 0918 818 842  / 0243 923 0957
Ba Be Lake or ba be national park located in Bac Kan Province, bus from ha noi to ba be about 240 km and covers more than 23,000 hectares boasting waterfalls, rivers, deep valleys, lakes and caves set amid towering peaks. The whole area is home to many ethnic minority communities. Ba be Lake is in fact three lakes linked by wide channels, about 8km long and 400m wide. The surface is always calm, making a boat trip a peaceful experience. To reach Ba Be, it is an approximately for to six -hour drive on rough road but excellent scenery compensated.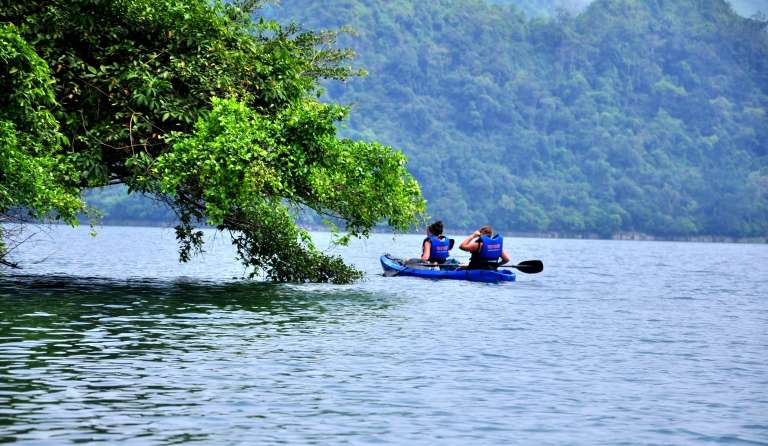 There are many way to get ba be lake , the most is open qbus ha noi ba be : 
Ticket of get to ba be departure daily at the Ha Noi city , don't pick up guests along the road, bus carrying up maximum 15 guests.
Price of ticket Ba Be : 280.000 VNĐ / 1 TIME ( with Viet Nam People)
                                  20 USD / 1 TIME ( with Foreign People )
                                  Buy 6 tickets free of charge 1 ticket
                                  Go 6 times continuously get 1 ticket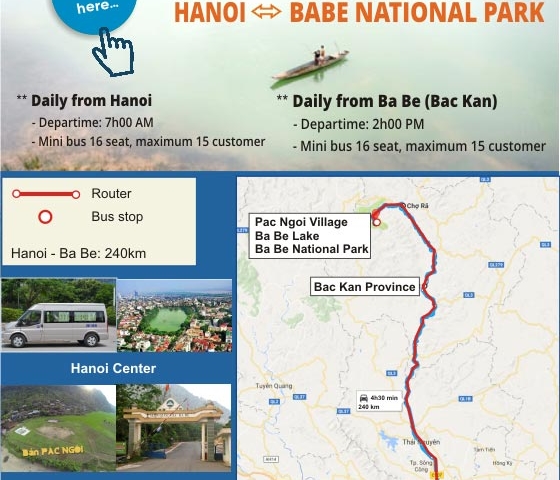 Internary :
+ Morning : 6h30 a.m : Bus pick up at Lotte Dao Tan, and around the Ha Noi Old Quater
                  7h00 a.m : Bus start to Ba Be Lake
                  12h00 a.m : Bus come to Ba Be Lake
+ Afternoon : 13h30 p.m : Bus pick up at Pac Ngoi village, Ba Be National Park
                      14h00 p.m : Bus start to the centre of Ha Noi
                      19h00 p.m : Bus to Ha Noi
Advantages of booking open qbus ha noi ba be :
+ Have big sale to company
+  New bus :  Species of Ford Transit Luxury 2016 
+ Comfortable seating , safe
+ Bus to quickly about four and a half hours come to here
TOUR BA BE NATIONAL PARK PACKAGE TOUR 2 DAYS 1 NIGHT
DAY 1: HANOI DRIVER OVERLAND TO BA BE NATIONAL PARK (LUNCH & DINNER)
In the morning, the car or share van pick up at the hotel in the city centre of Hanoi. And drive overland to Ba Be National Park via, Thai Nguyen, Bac Kan, reaching  the centre of Ba Be National Park mid-day. Check in the hotel or homestay ba be up on arrival. And then enjoy the lunch served at local restaurant.
In the afternoon, take a vessel boat trip to discover amazing place around the centre of the lake. Visit the Po Gia Mai islet, enjoy the relaxing moment at quite places. The boat drop anchor at tranquil water for rafting and swimming until sunset. Enjoy the amazing scenery of ba be national park lake and return to the hotel or homestay. Dinner & overnight in Ba Be.
DAY 2: BA BE NATIONAL PARK – HANOI (BREAKFAST, LUNCH)
In the morning, discover the great places of Ba Be national park ,ba be lake on a cycling tour to Hua Ma Cave. Ride along the Lèng river to enjoy picturesque sceneries. Visit Hua Ma limestone cave to explore the unique stalactites and special stalagmites. Return to the Pac Ngoi village and spend the time for free walking round to discover amazing culture of Tay tribe. Lunch at local house or local restaurant.
In the afternoon, the share picks up and drive to Hanoi. The drive is following highway with confortable bus. The trips ends upon arrival.
SOME OF HOMESTAY AT BA BE :
+ Minh Quang Homestay 
+ Duy Tuyen Homestay
+ Quynh Mai Homestay
+ Hoang Chuyen Homestay
+ Huynh Ha Homestay
HOTLINE BOOKING HOMESTAY : 0243 923 0957
SERVICE OF MOTORBIKE , BOAT  RENTAL , FOOD AND DRINK :
+ Motobike rental: VND 50.000 – 70.000 ~ 2.3 – 3 USD /moto for half day to explore the Tay minority group village, Nung minority group village, Dao minority group village. You can have a beautiful sight seeing on the way, trully beautiful landscape pictures. 
+ Boat rental to travelling on the lake: It depend on the visiting point you want to visit: Ba Be lake, Tien lake , Puong cave, Tham Phay cave ( like SonDoong cave & very nice), Dau Dang waterfall, or An Ma temple,..
- Visiting 2 points: VND150,000/ boat ~ 7USD
- visiting 3 points: VND 400,000/boat ~ 17 USD
- the price is icreasing up to 5 points is VND800,000/boat ~ 35 USD
- The capacity around 6 ->8 people/bus, it is not expenship when we count by person. The duration of travelling on boat is hours. You can take a swim , the water is very clean and clear as the sea water.
+ Food and drink a meal from 80.000 VND - 120,000 VND/pax, fish in Pac Ngoi village is really tasty and delicious.
-  Breakfast from 30,000 VND – 80,000 VND/pax
Representative office of qbus.vn in Hanoi:
Address: 51 Kim Ma, Ba Dinh, Hanoi
Email: This email address is being protected from spambots. You need JavaScript enabled to view it.
Hotline: 0918 818 842 / 0243 923 0957
Website: qbus.vn