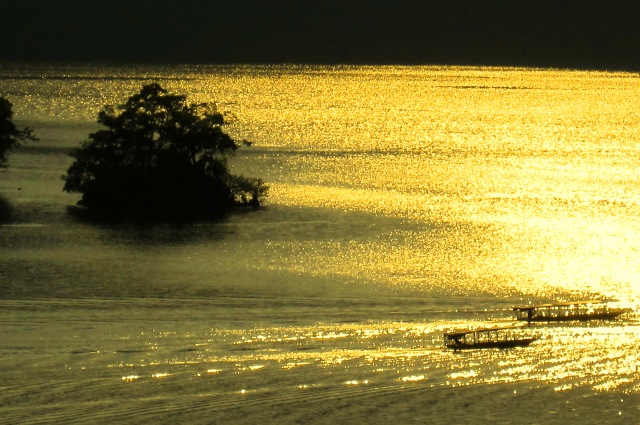 On an extended sightseeing tour of the northeast region, our last destination was Ba Be National Park in Ba Be District, Bac Kan Province and it was a happy ending for all of us.  As we just had a half day left, we hired a boat to cruise along Ba Be Lake and explore Puong Cave.
Ba Be Lake lies in the middle of the vast limestone mountain range of Ba Be National Park, surrounded by cliffs with very original and attractive forms and shapes. Ba Be Lake itself is actually three small lakes joined together – Pe Lam, Pe Lu and Pe Leng. The area was established as a national preserved forest and tourist center in 1978 and last year UNESCO recognized Ba Be Lake as the third Ramsar site in Vietnam – an important wetland of the world.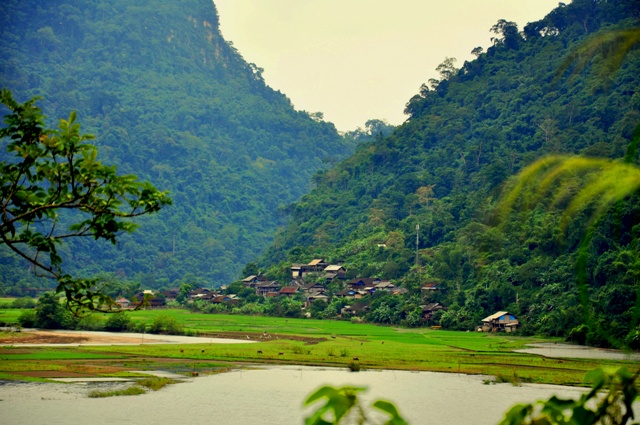 Some traditional houses in Village of Tay ethnic people
How many times had we heard about, read about and looked at hundreds of photos about the site in newspapers, magazines, television, forums and blogs, but we were still amazed by the intoxicating landscapes. Though influenced by the three rivers discharging water into the lake, the water remains clear blue which complements the green forests all around. The limestone mountains in varied shapes emerging amidst the immense lake made us feel like we were lost in a wonderland with many riddles of nature to be discovered. Sometimes, a couple of egrets hovered on the sky and or perched on trees' peaks to complete the romantic and stunning scenery.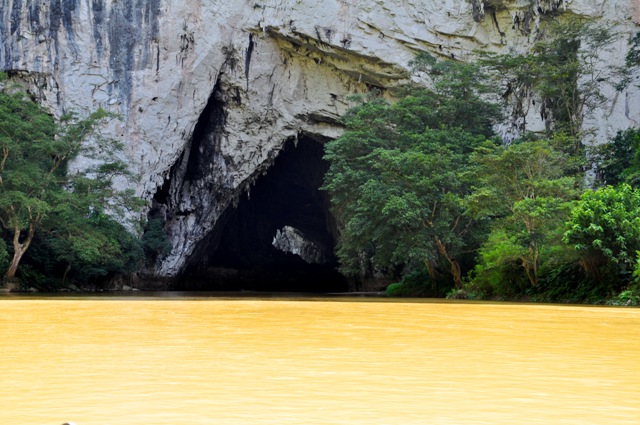 A tourist boat enters Puong Cave on Nang river
The still surface was roused by motorboats and the tranquility broken by laughs and voice of visitors, giving a breath of life to the ambiance. There were yells of travelers such as "Oh My God, where we are, in a fairyland or paradise?" or "Is it the real lake, how beautiful it is."
Located 145m above sea level, the lake has an average depth from 20 to 25m and its deepest part is 35m so travelers are suggested to wear life-jackets during the cruise to keep safe. The lake bed has submersible mounts and grottoes so it is ideal for aquatic animals.
Some cottages scattered Bo Lu Village which also added to the splendid surroundings. Coming to the village, tourists have a chance not only to admire old stilt houses but also to learn more about culture and daily life of Tay people.
Ba Be Lake has a lot to offer, including waterfalls, rivers, valleys, lakes, and caves all set amidst picturesque landscapes. From Ba Be Lake, tourists can visit other neighboring attractions such as Dau Dang Waterfall, Puong Cave and Tien Pond.
Not as big or magnificent as Phong Nha Cave in Quang Binh or Nguom Ngao Cave in Cao Bang, Puong Cave – its 30m wide with a depth of 300m – is also an interesting place in Ba Be National Park that tourists should visit for its strange and unique stalactites and bat community of tens of thousands.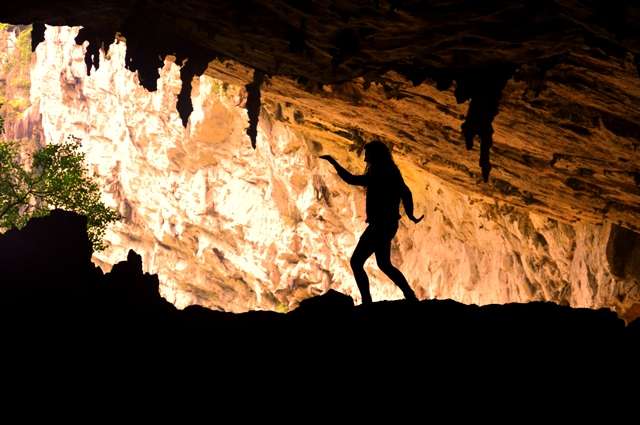 Tourists admire stalactites in Puong Cave
The Nang River flows under the limestone among the vertical cliffs of Lung Nham Mountain that is Puong cave. The small boats float in the cave with the ethereal lights. Beside this magical scene with color, water and light, visitors are shocked by the strange stalactites at the gate of the cave. There is a community of bats inside the cave but they stay well away from the many tourists. It is time to rest for them.
On the northeast of Ba Be Lake, in the hillside of the Lung Nham range, Puong cave is one of the favored destinations at a depth of 50m. It creates a splendid entrance with the Nang river flowing for 300m through the cave, which creates one of the most magnificent limestone landscapes of Ba Be National Park. The cave is the residence of many night creatures. Typically, there are 18 types of bats numbering in the thousands and they are home at the majestic Ba Be.
Comments
comments